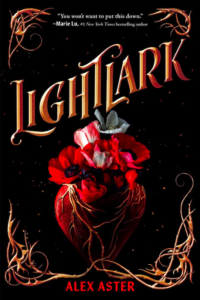 Welcome to the Centennial. Isla Crown is the young ruler of Wildling – a realm of temptresses cursed to kill anyone they fall in love with. Every 100 years, the island of Lightlark appears to offer the six rulers one final chance to break the curses on their realms, and this time, it's Isla's turn. More than just a game, to survive the Centennial, Isla must lie, cheat, and betray… even as love complicates everything.
This much-hyped book had me really excited – and for good reason! It's hard to go wrong with a game of intrigue and a nice old-fashioned love triangle, both of which Lightlark has. Isla has prepared her whole life for her chance to break the curse on her realm. All six rulers come to Lightlark knowing that one of them must die to save the other realms, and Isla is determined that it won't be her. We see a lot of the "chosen one" trope in YA fantasy, but Isla is very likable. She is fierce and clever and smart. Honestly, she's pretty badass, and everyone loves to see strong female leads.
The picture that Alex Aster paints of Lightlark is magical and enthralling. Despite the danger lurking at every turn, the wonders of Lightlark make me want to visit. It's a beautiful and mysterious setting that only adds to the ominous feeling of foreboding throughout the game.
Every character is three-dimensional and morally grey, which makes the plot all the more interesting. Everyone has their own motives and agenda that will keep you guessing until the very end. I think Aster has created life-like characters that make choices we can see reflected in our own lives. The element of choice plays a huge role in this story, especially at the end, and Isla surprised me by choosing a path I would not have chosen for myself.
My only qualm with this story is the love triangle. Can't a girl try to save the world without the help of a man for once? Ultimately, though, the triangle has a greater purpose for the sake of the plot, so I'm willing to let it slide. I will say if you love the dark-haired, mysterious, brooding boy versus the sunshine-golden prince, you'll enjoy this aspect of the story. Personally, Isla and I have very different tastes.
I did guess the plot twist, but others might not. It's one of those twists that might make you want to reread the book to see if you missed anything. I think it's really, really hard to do anything original in terms of plot twists these days, but Aster did a good enough job and had me thinking about the ending for days.
Overall, I highly recommend Lightlark to anyone who reads YA fantasy. It's compelling and fun and even a little spicy at times! Give it a read to see what all the fuss is about – you won't regret it!
A copy of this book was provided by the publisher, Abrams, for review.